Case Study (Headquarters)
Video Conferencing Solution
Design Criteria
Approximately 100 existing sites with Video TeleConferencing (VTC) units will continue to be served via an existing 24 port H.320 MCU (deployed

in NJ Hub)
Headquarters will have eleven H.323 based Polycom VTC units.
336Kbps conferences are currently used with the existing H.320 VTCs and MCU. The MCU is 384Kbps capable.
(1) IP/VC 3525 H.320 to H.323 gateway and (1) IP/VC 3540 H.320 to H.323 gateway will be placed in National Office (National) and connected to the H.320 MCU via serial links (using PRI signaling).
The H.323 MCU is placed in National to accommodate future remote H.323 VTC sites.
VSPAN originates all H.320 calls via the MCU deployed in National. VSPAN performs a "meet and greet" service by initially being the 3rd party in all conference calls, and initiates all calls to remote sites. Once the call is set up, VSPAN will drop off of the call, but continue to monitor the call. XYZ desires VSPAN to support this same capability via the H.323 MCU.
The NY-Hub (HQ) H.323 VTC units will use the H.323 MCU located in National for aggregation. As a result, if multiple HQ VTC units are participating in a single call, the H.323 will aggregate those users, and only require a single 384Kbps session be set up to the H.320 MCU.
Redundant 2600 MCM gatekeepers will be placed in national office that will limit the maximum bandwidth per call, and perform call accounting.
QoS will be deployed on the existing

6509 in National Office and the 6509 Flexwan router in HQ to support

the video traffic.
The Polycoms supports

QoS classification of traffic.
There are currently no T.120 requirements, However, this capability can be easily added to the 3544 chassis via a T.120 card.
XYZ's network will be set up as a single zone. No Call Admission Control is required. No remote site has a number of VTC units that could exceed the available bandwidth of the WAN link if all units were to be transmitting simultaneously at 384Kbps. If it is determined that the number of simultaneous video teleconferencing from any remote site should be limited, then that site would need to be placed in a separate zone, and a a gatekeeper deployed at that site.
The vast majority of video calls are between HQ offices. Only a small percentage of calls are destined to non-HQ offices.
Cisco IPVC Architecture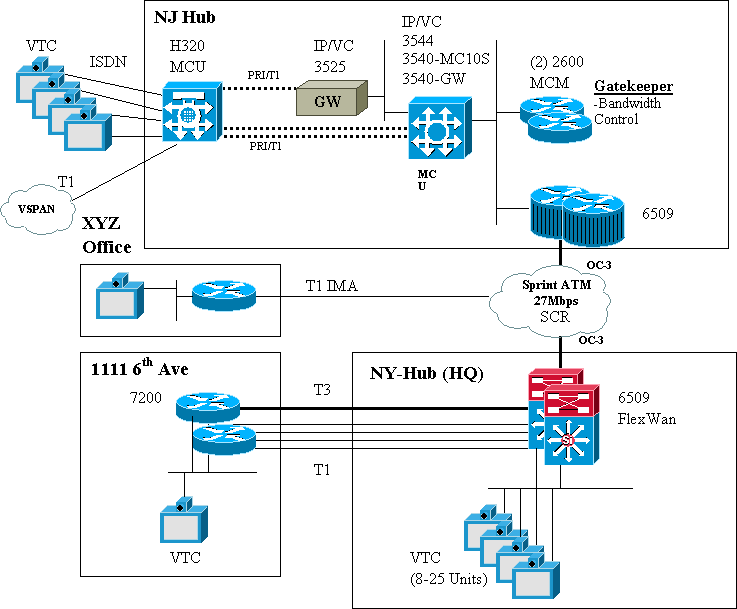 Infrastructure Equipment Cost
Description

Unit Cost

(List)

# of Units

Total Cost

(List)

IPVC-3544-CHAS

IP/VC 3540 Four Slot Chassis with Dual AC Power Supply

$5,950

1

$5,950

IPVC-3540-MC10S

IP/VC 3540 MCU System Module-100 sessions

$94,950

1

$94,950

IPVC-3525-GW-1P

IP/VC 3525 H.320-H.323 Videoconf. Gateway-1 PRI

$29,450

1

$29,450

IPVC-3540-GW-2P

IP/VC 3540 H.320-H.323 Videoconf. Gateway-2 PRI

NTE

$44,000

1

$44,000

Multimedia Conference Manager (MCM) software

CISCO2650

High Performance 10/100 Modular

Router w/ Cisco IOS IP s/w

$3,295

2

$6,590

IP/H323 26XX S26CU

IP/H323

S26CU-12103XI

Cisco 2600 Series IOS

IP/H323 MCM

$3,200

2

$6,400
Front End Audio/Video System
The firm standardize on Polycom & NEC flat-screen displays. Old Pictel VTC units will be phased out. The conference center floor will have VTC units in all rooms. This ranges from 50" to 101" Flat & rear projection screens. There will be the initial capability of having 6 Cable TV (CATV) stations per floor. The Board Room will have building broadcast capability. Station cabling for BRIs and CATV will be CAT5e. There are 26 typical potential VTC floors. One CATV hub will serve three floors via Cat5e distribution, the floor above and below.
CATV
AOL/TW will route CATV cable from POE to 8th floor Technology Center

Video Distribution Hub located in Data Center (channel programming)

Eight (8) total fixed VTC units

& 3 Portables

Average of 6 CATV stations

per floor

CAT5E distribution to end station
Typical Medium Conf. room AV Equipment 19" Cabinet (Middle Atlantic MRK-44-26)
44 SPACE (77"), 26" DEEP GANG-ABLE RACK LESS REAR DOOR, BLACK FINISH, 135 lbs., List $778
Contains the following: